Positivity Cancer Card "You Can & You Will"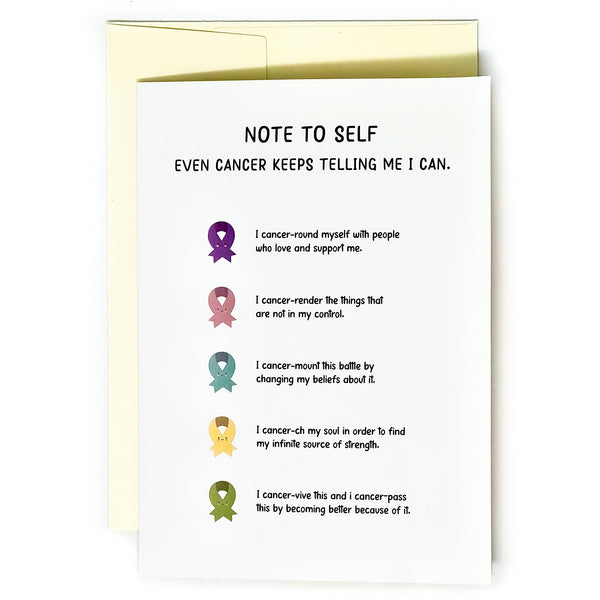 Positivity Cancer Card "You Can & You Will"
About:
Having trouble finding the right words to say to a loved one with cancer? We wanted to create a card that was not only uplifting, but also able to create a mentality shift with a few clever puns. Our belief is that this battle can only be won through love, not hate. So love is our weapon of choice, and we hope to change the way people talk about cancer by creating positive conversations around it.


Specifications:
Standard 5" x 7" folded card (A7 envelope size)

Comes with a white ivory A7 envelope
Outside Text:
"Note to self:
Even cancer keeps telling me I can
I cancer-round myself with people who love and support me.
I cancer-render the things that are NOT within my control.
I cancer-mount this battle by changing my beliefs about it.
I cancer-ch my soul in order to find my infinite source of strength.
I cancer-vive this and I cancer-pass this by becoming better because of it."
Inside Text:
"Hang this note somewhere so you don't forget.
You can and you will."
How am I contributing to the fight against cancer by purchasing this card?

Since we have dedicated ourselves to being a "For PEOPLE" company rather than a "For PROFIT" company, we are giving a portion of the proceeds to cancer patients who aren't able to afford treatment costs and are in desperate need of financial assistance. We are also actively supporting nonprofits dedicated to cancer research and providing support to cancer families.

All designs are created by CanPlan LLC and are copyright protected.