CanPlan Cancer Planner Version 5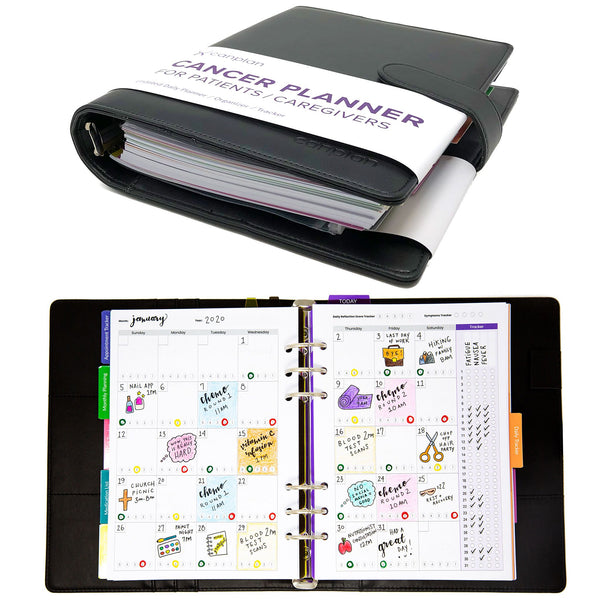 CanPlan Cancer Planner Version 5
About:
When patients and caregivers are thrown headfirst into the world of cancer, they often struggle to find answers or direction. It may feel like there's no time between diagnosis and treatment for patients to process the situation. This plummets the patient into a passive role throughout their journey, where they strictly follow the directions doctors give them. 
 
CanPlan was a tool born out of necessity, designed to address this very problem. It is a one of a kind planner specifically designed to help patients and caregivers reclaim their sense of control through proactive planning and tracking. If you are a cancer patient-- or know of a cancer patient who is currently going through this-- we know what it feels like to need a hand. With CanPlan, you've got one. 
 
We've spent over two years perfecting this organizational tool designed to help you manage your physical, emotional, mental, and spiritual health. And we're so excited for you to start your holistic healing journey with CanPlan today!
Top 10 Planner Benefits: 
Based on the foundations of scientific research in the fields of positive psychology, neuroscience, and behavioral therapy
Provides a

 

holistic approach

 

to treatment, taking into account both conventional and natural therapies
Tested and modified by over 100 cancer survivors
Shifts you from

 

victim to victor mentality

 

through daily gratitude practices and empowerment strategies
Guides you to both

 

recovery AND discovery

 

through daily tracking of medication, symptoms, side effects, and emotional health.
Puts the control back into your hands in a way that sparks

 

self-healing

Enhances

 

doctor-patient relationship

 

by providing prompts for you to prepare for your appointments beforehand and showcase what you're doing to fight cancer at home
Motivates you to document your journey and then

 

share your cancer story

 

in its entirety, with patients who're on the same journey as you.
Helps you and your cancer support team to

 

stay organized

 

and on the same page
Teaches your heart and mind to really

 

listen to your body

, in a way that allows you to see cancer as a friend rather than a foe
Inner Page Specifications:
Dimensions: Size A5, 100 GSM Paper (5.8 x 8.3 in)
336-page planner - 168 sheets front & back (see Page Content)
Binder & Accessories Specifications:
Dimensions: 9.25 x 7.5 x 1.6 in
Top Quality Soft PU Leather
6-ring binder that can fit any A5 size document
Pockets (Front): 3 card holder slots and 2 mid-size pockets, and 1 large pocket for documents
Pockets (Back): 1 large pocket for documents
Magnetic closure strap
10 multi-colored section dividers and 3 multi-colored bookmarks for easy navigation
1 plastic pouch insert for storing accessories and additional loose items
Page Content:
180 pages of UNDATED daily trackers (180 days) with an inspirational quote each day (1-page spread)
48 pages of UNDATED monthly calendars with customizable symptom tracking (12 months) and planning/reviews
27 pages of doctor appointment trackers (2 trackers per page)
23 pages of tracking important info (e.g. support contacts, medical history, medication list, treatment/testing/blood cell count tracker, etc.)
8 pages of helpful cancer information and resources (e.g. suggested questions for your doctor, chemotherapy tip sheet, cancer diet tip sheet, etc.)
16 pages of interactive positivity exercises for holistic healing through brain & positivity exercises, gratitude & affirmation lists, and end of day reflection scores
18 blank pages for notes and journaling